Today I'm excited to welcome Bonnie from Pink Stitches! I came across Bonnie's blog via link parties. I clicked on her projects a number of times and realised quickly that I was drawn to her beautiful sewing projects. I am a really big fan of the way Bonnie teams different fabrics to create her various projects, she has a great eye for colour matching to create really striking combinations. I am also excited that Bonnie, like me, has only recently caught the sewing bug and is self taught – I think she was born to sew! She also loves all the same books as me – we were meant to be friends!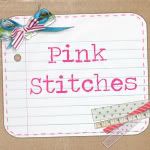 In Bonnie's own words:
Hello! My name is Bonnie and I blog over at Pink Stitches. I'm a stay at
home mommy and I love every minute that I get to spend with my 3 year
old son, AJ. We live in a Texas border town with my husband of 7
years (our anniversary is was this past week – April 23rd!). I love connecting
with new friends through my blog and being inspired on a daily basis.
Is sewing a hobby you have had since you were young or has it been something you have come to as an adult?
I first started sewing last January when I started my blog. I had nobody
around to teach me so I was determined to teach myself! I read blogs,
bought sewing books, looked up videos and read my sewing machine manual a
million times. Now, I'm a self-proclaimed fabric addict and have even
opened a little etsy shop!
Is/was
your paid job or educational background creative?
I changed my major a bazillion times before becoming a stay at home
mommy. I first wanted to be a medical missionary and went to school for
that, but quickly discovered I couldn't stand the sight of blood. Then I
was interested in teaching or one day opening my own business. Finally
I enrolled for interior design but my life took a different course when I
got pregnant and decided to stay home with my baby. So no, I never had a
creative educational background but I do remember always being the kid
in school who started clubs like "The Art Masters" or "The Hellen Keller
Club" haha. Now that I look back, I guess I always did have that
creative itch.
What types of projects do you enjoy creating the most?
One of the main reasons I started sewing was because I wanted to make my
own bags. To this day, handbags and totes are still the things I enjoy
working on the most. I've recently discovered a love of quilts though,
and I think this year I'll be working a little more on those.
Name your top five sewing inspirations.
Just five?? How do I narrow it down? There are a handful of blogs
that I have shamelessly stalked from beginning to end. I'm amazed at the
talent and creativity of these amazing ladies:
How do you balance your sewing and blogging with your 'real life' eg. Paid work, family?
The most difficult thing for me is feeling like I neglect my son when I
sew or blog. I hate sitting him in front of the TV for three hours while
I make a pillow so I usually wait until my husband is home for me to
fully indulge. My husband works 7 days and then gets 7 days off so I do
get quite a lot of time to check things off my list!
Apart from sewing, what other creative pursuits do you enjoy?
I'm obsessed with reading! I'm the kind of reader that is in the middle
of reading a book and already has ten new books waiting to dig into.
Some of my favorites include "Gone With the Wind" and "Pride and
Prejudice" (I swear, I don't belong in the 21st century!). But I love
ANY kind of book, really. I also like to crochet, although there isn't
much need for scarves and mittens in south Texas lol. I like
scrapbooking, party planning, shopping online, spending time with my
family and eating chocolate. I LOVE meeting new friends who share
similar interests so if you feel like we can be soul mates, come visit
me!!
Thanks Bonnie – I certainly DO feel like we could be soul mates! Can you believe Bonnie has only been sewing since last January!? She is amazing! You can find Bonnie here:
Pink Stitches Blog
Facebook
Etsy
Pinterest
Go on over and visit her! Have a great weekend!